X rays
---

Roentgen,  in 1895, discovered the first example of x-rayswhile using the  
Crooke's tube , represented as follows:





This device is composed by :

a glass envelope under high vacuum,
a heated wire forming the cathode,
a heavy metal (copper) target at the end forming the anode,
a high voltage applied to the electrodes to accelerate electrons. (10 - 100 kV kilovolts)
The electrons formed at the cathode are pulled towards the anode.They strike the metal with very high energy. The X-Rays are produced. Roentgen called them X rays.
Let's Concider this figure:


Instead of dealing with Auger electrons, where we send an electron in the medium to produce electron ( Auger), the X-Ray involves photon ( like the photoelectric effect) to eject photon (X-Rays). Here is the idea: When we send a photon with an energy greater than the binding energy of a target electron in a specific shell in the atom, the latter electron is ejected from its orbit and leaves a hole (or vacancy). Another electron from a higher shell fills the hole and uses the rest of its energy to produce an x-ray . This process is known as fluorescence. Every electron in the atom target can undergo the transition to fill the vacancy, we talk about characteristic x-rays. The transition n-m from the shell n to the shell m is represented as follows: 2-1 K alpha 3-1 K beta 4-1 K gamma 5-1 K delta 3-2 L alpha 4-2 L beta 5-2 L gamma 4-3 M alpha 5-3 M beta The following figure gives a general idea of the spectrun of the characterisic X-Rays.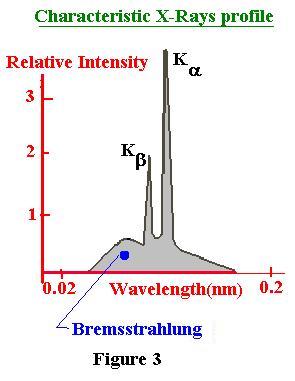 The more common used targets are the tungsten and the molybdenum. Example, for the Molybdenum, We have respectivly 0.65 and 0.75 nm for Ka and Kb, at 35 kV.


Related studies to Characteristic X-Rays:
Bohr model is used to compute the frequencies of the characteristic x-rays.
Moseley Plot can be used to determine the frequencies of the characteristic x-rays for elements of the periodic table. The related Moseley relationship is set by measures, then empirical. A good aproximation can be written as :
E (K,Z) = K ( Z -1)2 ( keV)
Where Z is the atomic number of the element K a constant With the values 1, 1.5, 1.45 respectively for K, L and M shells. Mainly for Ka, the plot of the square root of the frequency (=E/h) versus the atomic number Z follows a straight line.